How to search for and replace a string in the file name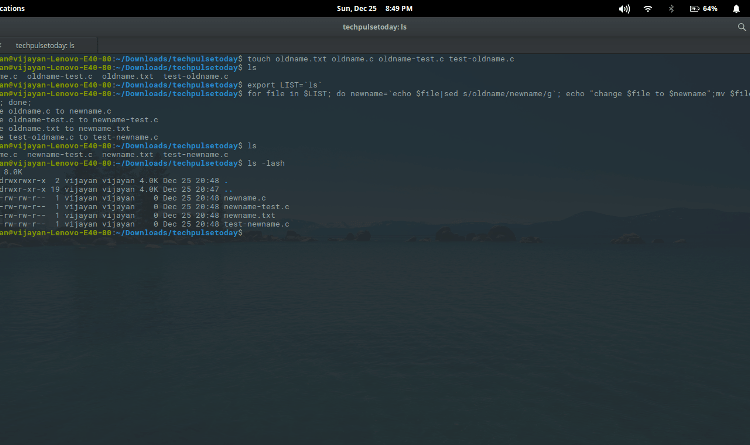 As a developer, you may sometimes want to rename a file in a directory by substituting certain string in the name. The following one line tip in the Linux shell will help you to achieve this.
1


for 

file 

in

 

$LIST

;

 

do 

newname

=

`

echo

 

$file

|sed s/oldname/newname/g

`

;

 

echo

 

"change 

$file

 to 

$newname

"

;

mv 

$file

 

$newname

;

 

done

;



Here, 'oldname' is the search string and 'newname' is the replacement string.
The for loop will iterate and file the 'file' variable with every instance of the files founds. The 'sed' command will replace the found string with a replacement string, and pass it as the second parameter for the 'mv' command.
Here is an example of how to rename all files that have the strings 'oldname' in their file names, which need to be replaced with 'newname'.
Create dummy a file
1


touch oldname.txt oldname.c oldname-test.c test-oldname.c

Search for and replace a string
1
2


export 

LIST

=

`

ls

`




for 

file 

in

 

$LIST

;

 

do 

newname

=

`

echo

 

$file

|sed s/oldname/newname/g

`

;

 

echo

 

"change 

$file

 to 

$newname

"

;

mv 

$file

 

$newname

;

 

done

;



Search-Replace Examples
1
2
3
4
5
6
7
8
9
10
11
12
13
14
15
16
17
18
19
20


vijayan@vijayan-Lenovo-E40-80:~/Downloads/techpulsetoday

$ 

touch oldname.txt oldname.c oldname-test.c test-oldname.c
vijayan@vijayan-Lenovo-E40-80:~/Downloads/techpulsetoday

$ 

ls


oldname.c  oldname-test.c  oldname.txt  test-oldname.c
vijayan@vijayan-Lenovo-E40-80:~/Downloads/techpulsetoday

$ 

export 

LIST

=

`

ls

`


vijayan@vijayan-Lenovo-E40-80:~/Downloads/techpulsetoday

$ 

for 

file 

in

 

$LIST

;

 

do 

newname

=

`

echo

 

$file

|sed s/oldname/newname/g

`

;

 

echo

 

"change 

$file

 to 

$newname

"

;

mv 

$file

 

$newname

;

 

done

;


change oldname.c to newname.c
change oldname-test.c to newname-test.c
change oldname.txt to newname.txt
change test-oldname.c to test-newname.c
vijayan@vijayan-Lenovo-E40-80:~/Downloads/techpulsetoday

$ 

ls


newname.c  newname-test.c  newname.txt  test-newname.c
vijayan@vijayan-Lenovo-E40-80:~/Downloads/techpulsetoday

$ 

ls

 

-lash


total 8.0K
4.0K drwxrwxr-x  2 vijayan vijayan 4.0K Dec 25 20:48 

.


4.0K drwxr-xr-x 19 vijayan vijayan 4.0K Dec 25 20:47 ..
   0 

-rw-rw-r--

  1 vijayan vijayan    0 Dec 25 20:48 newname.c
   0 

-rw-rw-r--

  1 vijayan vijayan    0 Dec 25 20:48 newname-test.c
   0 

-rw-rw-r--

  1 vijayan vijayan    0 Dec 25 20:48 newname.txt
   0 

-rw-rw-r--

  1 vijayan vijayan    0 Dec 25 20:48 test-newname.c
vijayan@vijayan-Lenovo-E40-80:~/Downloads/techpulsetoday

$